Alpenrose Restaurant near Brixen – a holiday treat for your stomach!
Our kitchen team around head chef, Jürgen, knows how to give our guests a culinary treat! We serve homemade South Tyrolean and Mediterranean specialities at lunchtimes and evenings in the restored, cosy parlours, large dining room and on the terrace. We also hold barbecue nights with fish and meat specialities, invite you to enjoy brunch or provide a setting for company and family parties. It is always very important to us that we only serve the best dishes made from local quality produce to our guests (be they house guests, travellers passing through, or diners from the area).  
We have a special menu for our younger hotel and restaurant guests and after eating they can let off steam in our playground or, in bad weather, live it up in our playroom.
Restaurant opening hours
Our restaurant is open on wednesday, thursday and friday from 6.00 to 9.00 p.m. and saturday and sunday from 12.00 a.m to 2.00 p.m. and from 6.00 to 9.00 p.m.
DAY OFF: Monday and Tuesday
Hearty South Tyrolean dishes combined with light Mediterranean fare, made from the best produce - be it meat, vegetables or fruit - which we buy locally and prepare with plenty of love. All kinds of treats that are made in-house. Always fresh and seasonal. This is what the Alpenrose Restaurant has to offer!
The idyllic location overlooking Brixen and the Eisack Valley is just the right place for the very best moments and highlights in your life. In our rooms and on the sun terrace you can enjoy your party with delicious food for up to a total of 150 people.
We will be pleased to draw up an individual menu for your event, just let us know your preferences. Our rooms at the Alpenrose can also be adapted to suit the reason for the party or celebration Be it a company party, Christmas party, retirement celebration, first communion, christening or confirmation, graduation, wedding or aperitifs - for every occasion we offer the ideal setting for partying!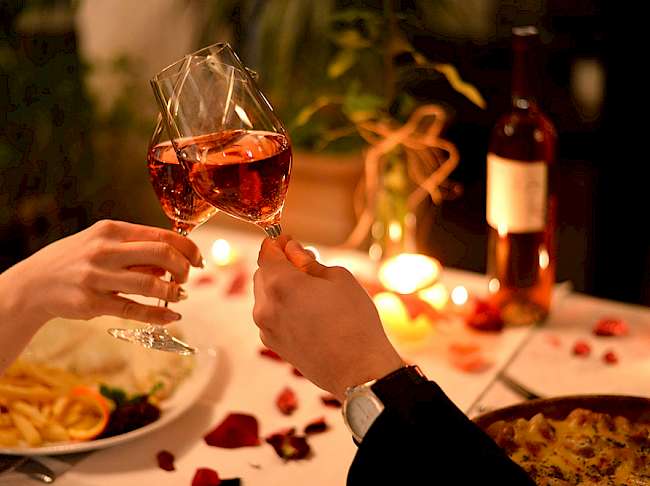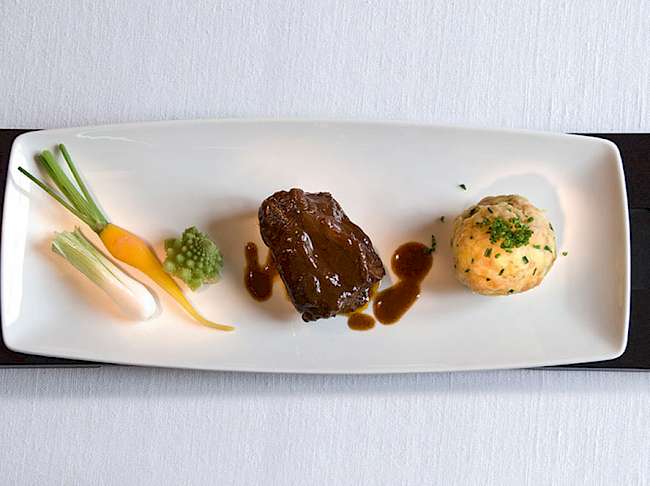 Braised Cheek of Beef
for 4 people
1 kg beef cheeks, 100 g wheat flour, 250 g red onions, 300 g carrots, 150 g celeriac, 100 g celery, 3 cloves of garlic, finely chopped 1 sprig of rosemary, 2 bay leaves, 2 l red wine, 500 g tinned peeled tomatoes, 2 l beef stock, 1 potato, olive oil, freshly ground salt and pepper
Buckwheat flour "muas" (a kind of buckwheat flour polenta) with elderberry aspic
For 4 people
1 l milk, 1 cup of water, 150 g of buckwheat flour, 1 tbsp wheat flour, salt, butter to grease the pan and for pouring over; for the elderberry aspic: 2 kg of elderberries, 1.5 kg of preserving sugar
Smoked trout mousse
for 4 people
75 g smoked trout fillet, 150 ml white wine sauce (see below), 15 ml fish soup, 2 gelatine leaves, 180 g whipped cream salt, pepper and cayenne pepper; for 200 ml of white wine sauce: 90 ml white wine 400 ml fish stock or meat soup, 150 ml cream 1 tbsp onions, finely chopped, 1 bay leaf, salt, pepper
Shredded apple pancakes
for 4 people
150 g flour, 6 egg yolks, 100 ml cream, 100 ml milk, ½ packet of vanilla sugar, 1 tbsp rum, 6 egg whites, 1 pinch of salt, 40 g sugar, 2 apples, butter, icing sugar
Asparagus with ham and Bozner sauce
for 4 people
2 kg white asparagus, 1 tsp butter, 2 tbsp white wine, 1 pinch of sugar, salt, Parmesan, grated chives, finely chopped, melted butter; for the Bozner sauce: 2 eggs, 1 tsp mustard, 2 tbsp hot meat soup or water, 50 ml seed oil, 1 tsp white wine vinegar, 2 tbsp chives, finely chopped, salt, freshly ground white pepper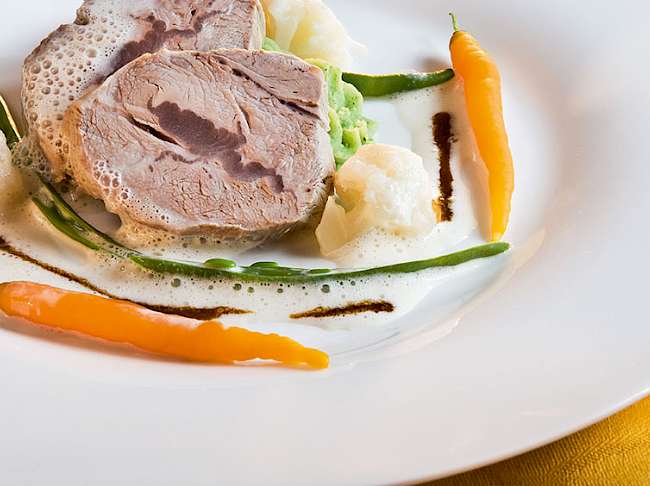 Boiled shoulder of veal with wild garlic purée
for 4 people
1 shoulder of veal, 1 carrot, 2 onions, 1 celery, 1 leek, bouquet of herbs (bay leaf, sprig of thyme, parsley stalk without leaves), peppercorns, salt; for the sauce: 1 shallot, finely chopped, 100 ml white wine, 500 ml veal shoulder stock, 200 ml cream, 2 tbsp horseradish, grated 1 tbsp butter, salt, pepper; for the wild garlic purée: 600 g floury potatoes, 50 g butter, 150 ml milk, 150 ml cream, 100 g fresh wild garlic leaves, 100 ml olive oil, 1 large pinch of nutmeg, grated salt
Buchteln (sweet dumplings) with custard
for 12 small dumplings
for the pre-ferment: 25 g yeast, ½ tsp sugar, 2 tbsp milk, 1 tbsp flour; for the dough: 40 g sugar, 120 to 140 ml milk, 40 g butter, 2 eggs, 400 g flour, 1 packet of vanilla sugar, 1 large pinch, orange zest, grated, 1 pinch of salt, 1 tsp rum, apricot jam, melted butter to brush on; for 500 ml of custard: 250 ml milk, 60 g sugar, 1 packet of vanilla sugar, 1 large pinch lemon zest, grated, 3 egg yolks, 1 tsp cornflour, 125 ml cream, whipped, 1 pinch of salt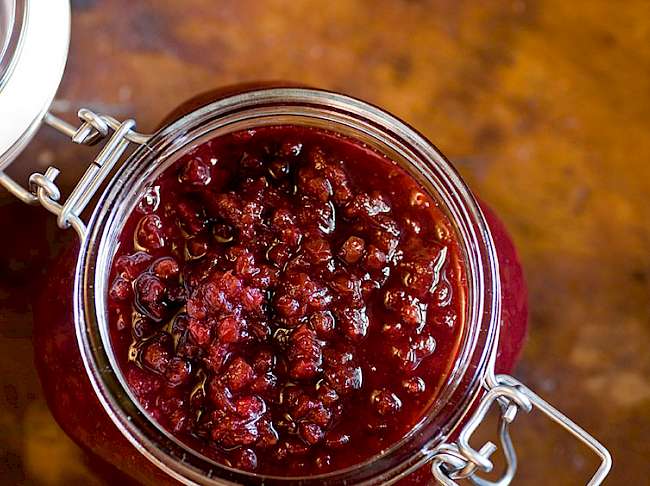 Glazed lingonberries
1 kg lingonberries (mountain cranberries), 400 g sugar
Boil the lingonberries with the sugar for 15 minutes. Pour hot into clean, pre-heated glass jars and seal immediately.
Tip:
The jam is excellent as a filling for doughnuts and cakes.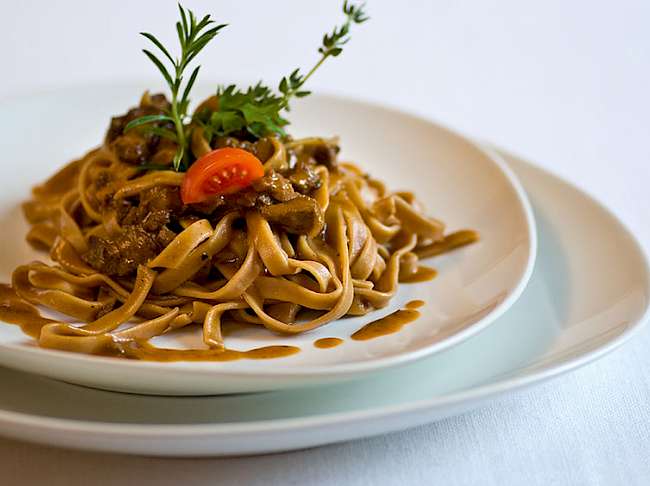 Chestnut ribbon pasta with creamy game sauce
for 4 people
for the pasta dough: 130 g wheat flour, 100 g chestnut flour, 2 eggs, a little oil, salt; for the creamy game sauce: 300 g shoulder of venison, cleaned and cut into small cubes, 100 g diced vegetables (onions, carrots and celeriac), cut into small cubes, 150 ml dark red wine, 300 ml brown game sauce or meat soup, tomato purée, place herbs (thyme, rosemary, juniper and garlic) in a small bag, flour for dusting, a little oil, salt and pepper, cream
Creamy squash soup
for 4 people
50 g butter, 125 g diced vegetables (onions, leek, celery), finely chopped, 500 g squash, 1 1/4 l soup, 50 ml cream, 25 g butter, 100 g potatoes cut into cubes, salt and pepper, 1 tsp whipped cream
Bauerngröstl (pan-fried potatoes)
for 4 people
1 kg potatoes, 1 onion, finely chopped, 30 g lard, 70 g butter, 3 tbsp, oil, 400 g boiled beef, cut into slices, 1 bay leaf, marjoram, parsley, finely chopped, salt, pepper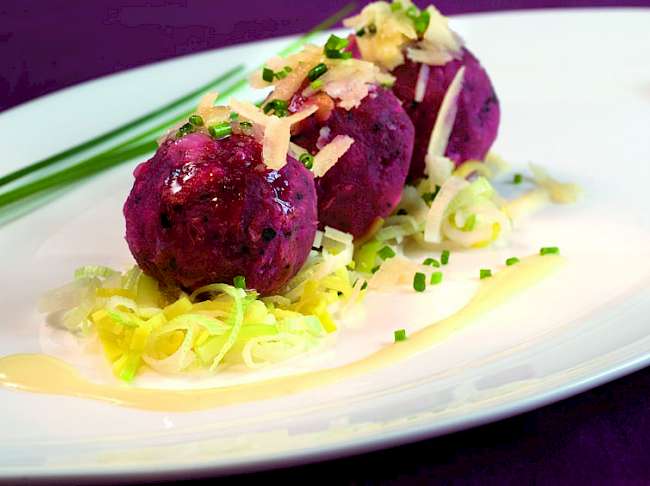 Beetroot dumplings on a bed of leek strips with cheese sauce
for 4 people
for the beetroot dumplings: 150 g beetroots, cooked 50 g onions, finely chopped, 1 clove of garlic, finely chopped, 80 ml milk, 200 g dumpling bread, 20 g butter, 2 eggs, 20 g flour, 1 tsp, caraway seeds, finely chopped, parsley, finely chopped, salt, 1 leek; for the cheese sauce: 400 ml cream, 250 g cheese (Marienberger), salt